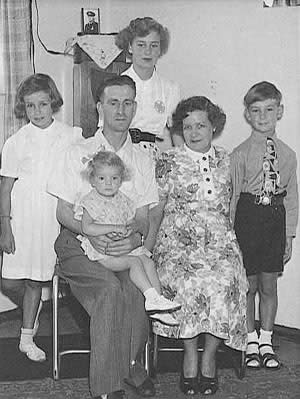 From left to right Shiela, Margaret at back
Dad sitting with Anne on his lap, Mum & Me

In 1957 when my Mother had an accident I applied for and received an exemption from Meadowbank Junior Tech. In that year I worked as a telegram boy with the PMG in Seven Hills Sydney until I was offered an apprenticeship as a Metallurgist with Turner & Company in Parramatta. I stuck that out for eight months then went to work as a station hand on Redmount Cattle Station near Monto in Queensland.
I soon found out that horses and I did not get along, and so after six months I headed back to Sydney where I took up my apprenticeship again. In early 1960 I passed all the tests for the Navy, however when told I had to sign on for nine or twelve years I decided against the Navy.
In November 1960 a mate of mine, Burnie Malloy, talked me into applying for the Army so off we went down to Rushcutters Bay to enlist. Out of the thirty-two people who sat for the test only three of us passed, Burnie was not one of them. He was to die in a car accident a year later in Western Australia.
Being only seventeen, I had to forge my parent's signature to enlist, as my father who was a pacifist would not have let me join. Because it was so close to Christmas I had to wait until the 9th of February 1961 before reporting to Eastern Command Personnel Depot at Watson's Bay. When there was enough to form a platoon we were moved to the Recruit Training Battalion at Kapooka near Wagga Wagga NSW. My military career was about to start.